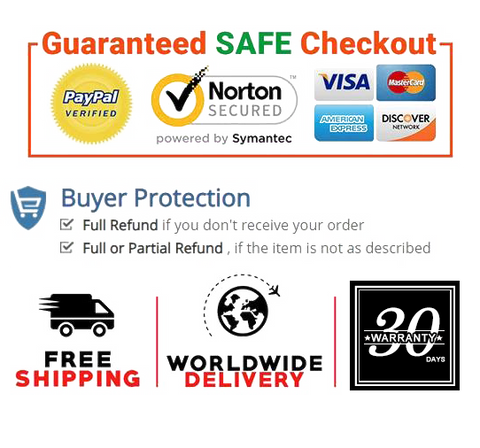 New Heavy duty 'Integrated Metallic Body Frame ' architecture, protect your vehicle with this robust physical and highly visual deterrent to car thieves. Also a heavyweight safety hammer, come with emergency window breaker. The steering wheel lock bar smoothly extendable to 17.7-28.7 inch (45cm-71cm), suitable for all kinds of car.
B+ GRADE LOCK CYLINDER; PICK-PROOF LOCKING MECHANISM - Our lock uses a real B+ lock cylinder, resists sawing, prying, hammering, and freon attacks. The car steering wheel lock featuring a new 'Integrated Body Frame ' architecture, has a solid body for strength and weatherability, and a hardened steel for superior cut resistance, unbreakable lock and can't be sawed through. It makes your car virtually impossible for someone to rip off. Deters keyless entry theft.
LASER CUT KEYS THAT CAN NOT BE DUPLICATED - Laser keys, B+ GRADE snakelike groove, keys cannot be duplicated so you have to be careful with the three that you get.
SELF LOCKING FEATURE; 1 SECOND TO LOCK AND UNLOCK - The Wxrtdso steering wheel lock (versus other lock on the market) is that the bar automatically locks in place as you extend it, so you no longer need to use your key to lock it. You only need the key to unlock it. When you pick it up from either end it easily extends. Easy to manipulate, easy to attach to your steering wheel. Nothing complicated,just slide across the steering wheel and it locks automatically.
PROTECTION IS PRICELESS - A MUST for ever City Dweller! Your Cars are very expensive. When not in use, it easily stores under the front seat. Extendable and retractable wheel locks fit for most of vehicles.



Product Details

Item Weight   2.64 pounds
Product Dimensions   28.74 x 5.12 x 1.4 inches
Date First Available   August 05, 2020