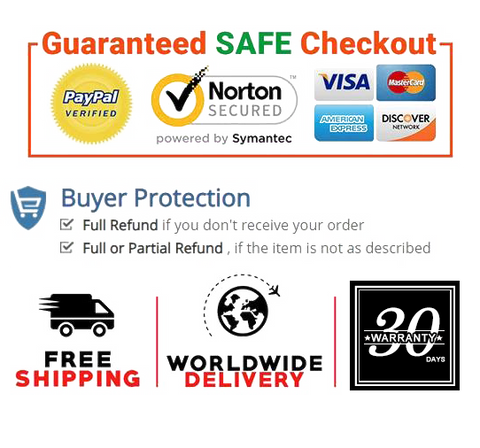 ALWAYS MAINTAIN COOL YOU WANT : The majority of handheld fan Only last 3 hours at highest speed and then last couple hours at medium or slow speed until turn off, it is not customers expected for longer working time, But TUUFUN fan can meet your expectation. We specifically engineered fixed speed setting with 2000mAh rechargeable battery, our portable fan maintains 3 hours at highest speed, it won't weaker until the battery run out unless you change the speed, keep you cool as you want.
HELP YOUR HOT FLASHES : This hand held fan comes with brand new copper made motor, is able to generate up to 4300 RPM in the maximum speed, which is powerful enough that can support the blade running at very high speed to produce strong wind, always cool you down anywhere.
KEEP YOU ALWAYS SAFE : The battery life and safe is what customer worried and concerned, with our newly designed batteries, it uses over electric current protection and low voltage protection to avoid overcharge and over discharge, which helps to offer thousands of charging times of battery for customer. TUUFUN are trying our best to contribute to a more sustainably powered product. Mini fan comes with the usb cable that compatible with any USB port, such as computer, power bank, regular socket.
USER-FRIENDLY FAN : With a humanized handgrip design, it can be used as handheld fan or a desk fan to satisfy your different needs with cool design, you can put the fan upright or diagonally on the table, also great for office home.
SUMMER ESSENTIALS FOR EVERYONE : The personal fan only measures 7.9*4.1*1.8in / 20* 10.5* 4.5cm, you can put it into your bag, carry with you in the whole summer, such as waiting in line, traveling, Disney World, musical festivals, football game and other outdoor sports, also great for home office. It would be an ideal summer gifts for stylish girls, boys, men, women and kids.

Product Specification :
Battery Capacity: 2000mAh
Battery Time: 3-6 Hours
Full charging Time: About 3 Hours
Item Dimension: 7.9*4.1*1.8in / 20* 10.5* 4.5cm

Charging Mode: LED lights up red when it's time to charge and green when the batteries are fully charged, the white light flashes if the battery is nearly runing out.

PACKAGE LIST :
1 * Handheld Fan (0.64lb)
1 * Charge Cable
1 * User Manual


Product information

Color      Mint Green
Package Dimensions      7.95 x 4.53 x 1.85 inches
Item Weight      9.5 ounces
Manufacturer      TUUFUN
Date First Available      August 15, 2020