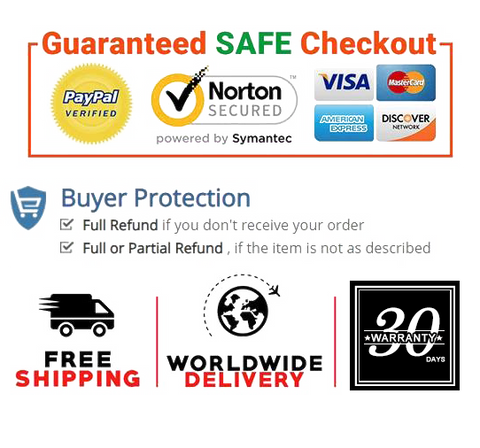 EFFICIENT SHOWERHEAD - Designed to work well with both high and low water pressure, and anti-clog nozzles ensure you don't get hard water build up
Requires NO TOOL for INSTALLATION. Our hand held shower head is backed by 100% LIFETIME WARRANTY. Includes a Free roll of plumbers tape.
ADVANCED spray with 6 FUNCTION: shower, power massage, waterfall mist, shower with power massage, shower with waterfall mist. STOP
Net Weight: 325g; Package Content: 1 x Shower Head, 1 x Wall Mount Holder
WE BELIEVE A SHOWER HEAD SHOULD be installed once and then enjoyed for many years. What this really means to you is PEACE OF MIND that the shower head will not break when you need nothing more than a nice, long, RELAXING SHOWER. We expect the BEST FOR OUR FAMILY and want the SAME FOR YOURS.


Product description

FIND THE PERFECT SETTING FOR YOU

Want a traditional shower? Try the Saturating Power Blast. Want to de-stress? Go for the Pulsating Massage. Need to rinse the hair? Choose the Slow Flow. You can easily switch from one setting to the next.

RIGOROUS MANUFACTURING TESTING

Shower heads must earn our approval. We spray them with salt water to check for corrosion. We add boiling water to detect temperature sensitivity. And we test for leaks at twice your home water pressure.



This amazing shower head set is the best option for those who wantthe ideal combination of flow control and mobility.

If you are looking for a shower head set that will give you thebest bang for your buck then this one is the best choice you have.



This 3 Part Set Is The Best Tool For Every Bathroom:



✔ It contains a hand shower head with an ergonomic handle thatoffers you the flexibility and ease of movement.

✔ The mount holder is offering you the flexibility to stay under the shower and enjoy the plea sure of your hot water.

✔ The muti-functional shower head makes your shower a pleasant experience. Choose from thefollowing modes: shower, waterfall mist, power massage.



Product Details
Item Weight   12.7 ounces
Product Dimensions    9.84 x 3.94 x 1.97 inches
Material    ABS
Flow Rate    2.5 Gallons per Minute
Date First Available    May 22, 2020