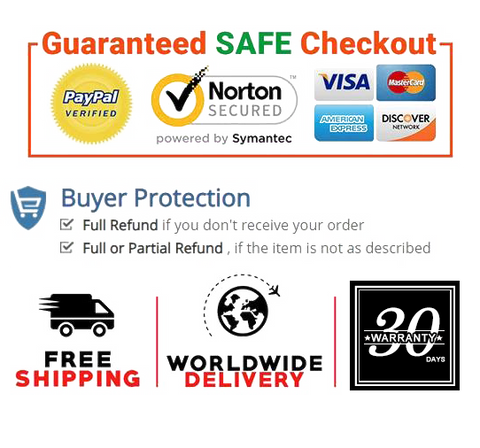 Long Range - Operating range up to 1,000ft/300m in open area when there are no obstructions, ensures you to hear the bell and answer the door in time.
Waterproof & Dustproof - Waterproof rating ensures the rain day usage perfectly. Sleek flat panel makes cleaning dust a piece of cake. Just rest assured to put it outside for convenience.
36 Different Ringtones & Adjustable Volume - The doorbell features 36 chimes and 4 level adjustable levels (25db to 85db) to suit your needs. Flashing light with audio alert indicators which is easy for people including the hearing impaired to notice.
Easy to Install & Use - Easily plug receiver into an electrical outlet (no batteries required for main receiver). The push button can be fixed to the doorframe with the attached adhesive tapes. Simply mount the doorbell where needed and you are ready to go.
Multi Use - It is fit for home, apartment, office, villas and more. You can use our doorbells to train dogs, using it to quiet down classrooms, seniors and disabled use doorbells as assisted living call pagers! Ensures that you will not miss any visitors, you can hear the sound even from back garden.


Product description

1 Receiver&1 Push Button
This item also can be used great for commercial space and offices. This item also works well for large homes or villas.
This item also can be used as a simple alert device. A paging device for the elderly, can signal for care when they need it most.
2 Receiver&1 Push Button
A perfect use case scenario for this product would be if you can put one receiver on the first floor, the another one in the basement, garage, or second floor.
If someone pressing a single transmitter button. two receivers play same song. No matter where,you know that the guest come.

Specifications
Wireless Range: 1000ft maximum in the open air
Internal Sounds: 36 Chimes
Volume: 4 level adjustable levels (25db to 85db)
Receiver Power: AC 110V ~ 220V 50Hz / 60Hz
Transmitter Power: 1 x 12V 23A battery

Package Includes
1 x Push Button (Transmitter)
1 x Plugin Chime (Receiver)
1 x Double-Sided Adhesive Tape
1 x User Manual


Product information

Item Weight   4.2 ounces
Product Dimensions   6 x 4.5 x 2.8 inches
Date First Available   September 03, 2020