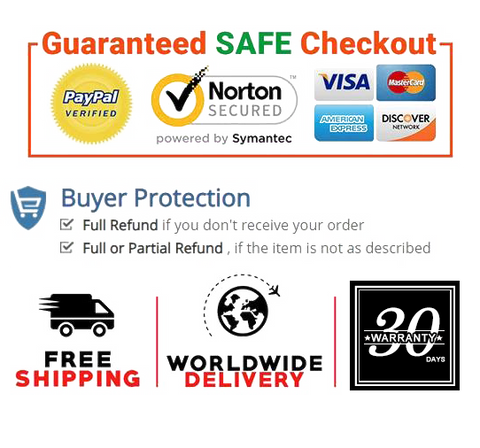 High Capacity Ozone Generator: 10000mg/h ozone output deodorizes odors, smoke, and VOCs. keep an ethereal ambiance. Ozone is one the most powerful oxidant, which removes tough odors. Ozonator creates a massive level of ozone instantly, powerful to eliminate any unpleasant smells.
Portable Handle,ONLY for Unoccupied Space: Set the timer before you leave the room, ensure that no one no pet in the room when the ozone machine is working. Use Ionizers Deodorizer Sterilizer twice for one week.
Portable Energy Saving: Equipped with an insulating rubber handle, you can take ozone generator everywhere. Low energy consumption. Only 50 watts that 20 hours' operating costs approximately 1 KWH.
Air Treatment & Odor Removal: Great for your home, offices and rooms, smoke and pet areas, basement, car, boat, restaurant and bar, kitchen, hospital, school and kindergarten, water and fire damaged areas. Increase the treatment duration and frequency when air problem recurring.
Warrantied by KIISIISO for 3 years. No filters to clean. Ultra low energy usage. Produce ozone gas to fill the entire apace and purify air completely to every corner. Saves time for your daily cleaning.

Product description

What's ozone?
Ozone is one of the most powerful oxidant, exists in the ozone layer region of the atmosphere to protect human beings from the sunlight.
We also sense its fresh and clean smell after thunderstorms.
Ozone (O3) contains three atoms of oxygen.
The third oxygen atom makes ozone extremely reactive, which readily attaches itself to other molecules.
When pollutants meet ozone, oxidation reactions occur and both parties are destroyed. Ozone essentially reverts back to oxygen.
Remove tough odors, get rid of mold, absorbs harmful gas from new painting, furniture and decoration materials, maintain healthy environment.
When pollutants spread out in the air, people gets sick or allergic.
It's necessary to clean up your living space regularly to protect yourself and your family.

How to use it:
Step 1 - Clean up the pollutants
Remove the source of the odors. Close windows and doors.
Make sure nobody and no pets are in the space.
Step 2-Use the timer
Timer function can be set up to 120 minutes and you can also use the "HOLD" mode to keep it on.
Set the timer and leave it in the space.
Return to the room when all residual ozone reverts back to oxygen, which costs normally 30 minutes.
Specification
Made of Industrial Grade Aluminum Alloy + Ceramic Plate.
Voltage: AC 100-120V/50-60Hz
Ozone output: 10000mg / h


Product information

Product Dimensions   11 x 6.6 x 6.6 inches
Item Weight   5.7 pounds
Date First Available   June 02, 2020