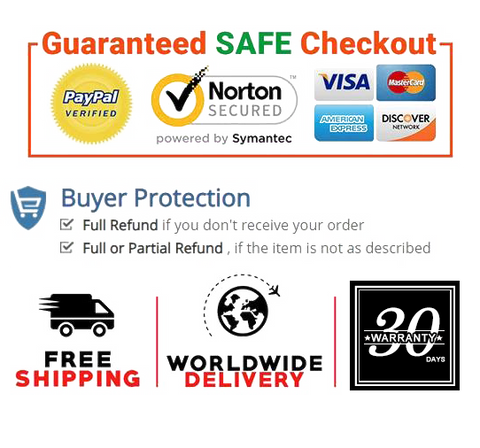 【1 Product, 10 Functions】 Save space by combining ten kitchen appliances into one! This steam oven can be used in the following modes: steam, hi-temp steam, grill, convection oven, combi (steam+grill+convection), fermentation, and sterilization. There is also a preheat and defrost mode.
【Family Sized】 Use all 1.1 cu. ft. of space to cook a full-course meal without spending half the day in the kitchen. Big enough to cook an 18-pound turkey or a 12-inch pizza with room to spare.
【Faster Cook Times】 The cooking area circulates heat faster than a traditional range oven, leading to shorter preheating and cooking times. Set the cooking time from 5 minutes up to 3 hours, depending on the function selected.
【User-Friendly】 The stainless steel outer panels are safe to the touch while the triple-layer glass oven door gives you a sneak peek at what's cooking. Activate the child lock to prevent children from opening the door and burning themselves.
【Front-Cooling Exhaust】 The exhaust system protects you and your cabinets from steam damage by trapping heat inside the oven while exhausting cool air from the top of the front panel.

Product description

Your One-stop Kitchen Solution
The JU-3200 Convection Steam Oven will quickly become your one-stop kitchen solution by combining the following functions into one countertop appliance: steam, hi-temp steam, grill, convection, combi, fermentation, and sterilization. There is also a preheat and defrost mode to use instead of a microwave oven.

Combi Cooking Mode

The BOSALY oven function combines grill, convection, and steam cooking modes to make your dishes tender and juicy on the inside, and browned and flavorful on the outside.

Juicy Insides
Crispy Outsides
Intense Aromas
Consistent Heating
Faster Cooking

Extra Large Capacity
The large 1.1 cubic ft interior has enough room to cook for your entire family. Whether you are toasting 9 slices of bread at the same time, popping in a 12 inch frozen pizza, or cooking an entire 18 lb turkey, you'll have enough room to do it all.

10 Oven Functions
Ten different oven functions give you endless options to do dinner your way. Steam, High-Temp Steam, Grill, Convection Oven, Preheat, Defrost, Fermentation, Sterilize, and Descale (cleaning) modes are included.


Front-Cooling Exhaust
The front-cooling air exhaust system keeps your kitchen comfortable. Steam and heat are kept and recirculated inside the oven while cool air is removed and exhausted above the oven door to keep your walls and cabinets from getting damaged.

50% Longer Steam Capacity
Traditional steamers only have enough water to steam for 80-120 minutes. Our 37.2 ounce water tank allows you to steam for up to 180 minutes, an hour longer than other steam cookers. Total steam time depends on which temperature setting is used.

One-Touch Display
Unresponsive touch screens are the worst. Our One-Touch display can recognize your touch on the control panel even if you have wet hands from cooking.
Product details
Product Dimensions  21.9 x 15.9 x 17.9 inches
Item Weight  64.8 pounds
Cord Length  43'' (including the input plug)
Power  1550 Watts
Voltage  120VAC, 60Hz
Temperatures  85°F - 450°F
Timer  0:01 - 23:59
Date First Available  August 10, 2020