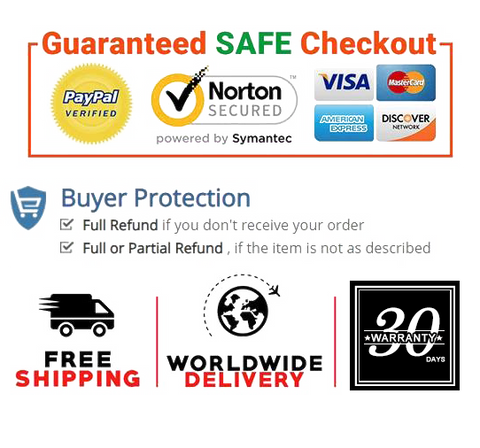 DOG BRUSH HAIR BRUSH: Our deshedder is developed by pet grooming experts who specialize in animal care. Our Pet Grooming Brush may reduce young & old dogs & cats from shedding by up to 95%. No need to worry about unsightly hair or fur all over your house, beds or car. Consider the savings you'll make on pet grooming tools and visits with your veterinarian or pet groomer. This dog cat grooming comb is so well-priced you can keep one in the house and car
100% RISK FREE: We offer a no questions asked 30 Day REPLACEMENT TOOL or REFUND if for any reason you are unhappy with your purchase. Our promise to you - It's as simple as that for our Dog Comb
HIGH QUALITY PET HAIR REMOVER: Made from materials that feature a non-irritation 100mm-4 inch heavy duty replaceable stainless steel pet comb, safe blade cover that protects the blades life span. Durable rubber handle for non-slip grip; strong stem-handle that will not break. It's a perfect grooming comb for cats and dogs - A versatile stand alone pet tool for grooming. It's a quick clean way to remove loose dog & cat hair undercoat while gaining shinier top coat brush
PET SHEDDING BRUSH: Best for de shedding small to big animals. Our product protects your cat and dog from coat irritation. Also, a sure fire way to help prevent damaging the topcoat whilst promoting a soft, smooth, healthier skin & coat for your pet. Suitable for pets with single and double coats; brushing will leave your pet with healthy skin and a shiny coat. Reduce coat issues with regular brushing of your furry companion that will reduce chance of reactions in your home
SHARE A PETS LOVE: BUY a spare one; one for a loved one and one for a friend. RECOMMENDED by both Veterinarians and Professional Pet Groomers. Be amazed at the results of our Cat Brush and Dog Brush for ALL SHAPES & SIZES – Small Medium and Large – Cats and Dogs that have short medium and long hair. Use our Pet Brush confidently on all your pets. Trimming in just a 10 minute session.



Product Description

Clip comb to handle by pressing the button & sliding comb into place
Remove large knots or tangles before brushing or grooming
Wash pet's coat & make sure it's dry before you start grooming

Use smooth even strokes in the direction of the coat growth
Apply only a little pressure allowing the weight of the tool to do the work for you
Avoid sensitive areas around face & paws

We recommend using 2-3 times a week for 10-15 minutes each session (more frequently during shedding seasons).
Special Note: The amount of time it takes can vary from breed to breed


Product details
Color   Blue
Product Dimensions   2 x 7.9 x 4.6 inches ;
Item Weight  1.6 ounces
Shipping Weight   5 ounces
Date First Available   May 16, 2020